Your Charter Fishing Adventure Awaits
Your day with Whiptail Adventure starts at Spring Point Marina. When all are aboard we'll all take off for one of the Captain's favorite fishing spots.  These spots can be close to shore for some fish, and as far out as 35 miles from shore for others.  On the way out and back, you will pass historic forts and scenic lighthouses that you can hardly make out from shore. This is the time to sit back, relax, and get ready for an unforgettable Charter fishing experience! 
Read More
You will get your fill of nautical adventure as you spend your day sport fishing for various species of shark, striped bass, mackerel. Maybe you would rather test your angling skills and fish for "ground fish" like haddock, halibut, pollack, and cod. If you're after an ultimate offshore charter fishing experience and want to catch them all, you can book a custom charter that scratches just about any fishing itch.
All our charter fishing trips come inclusive with everything you need to make a great catch possible. You will be provided with rods, reels, tackle, bait, and a license for your party. Captain Jason Eaton will send your catch home cleaned and fileted, ready to go straight into the frying pan. Just remember to bring your own drinks and some snacks, these adventures are hungry work!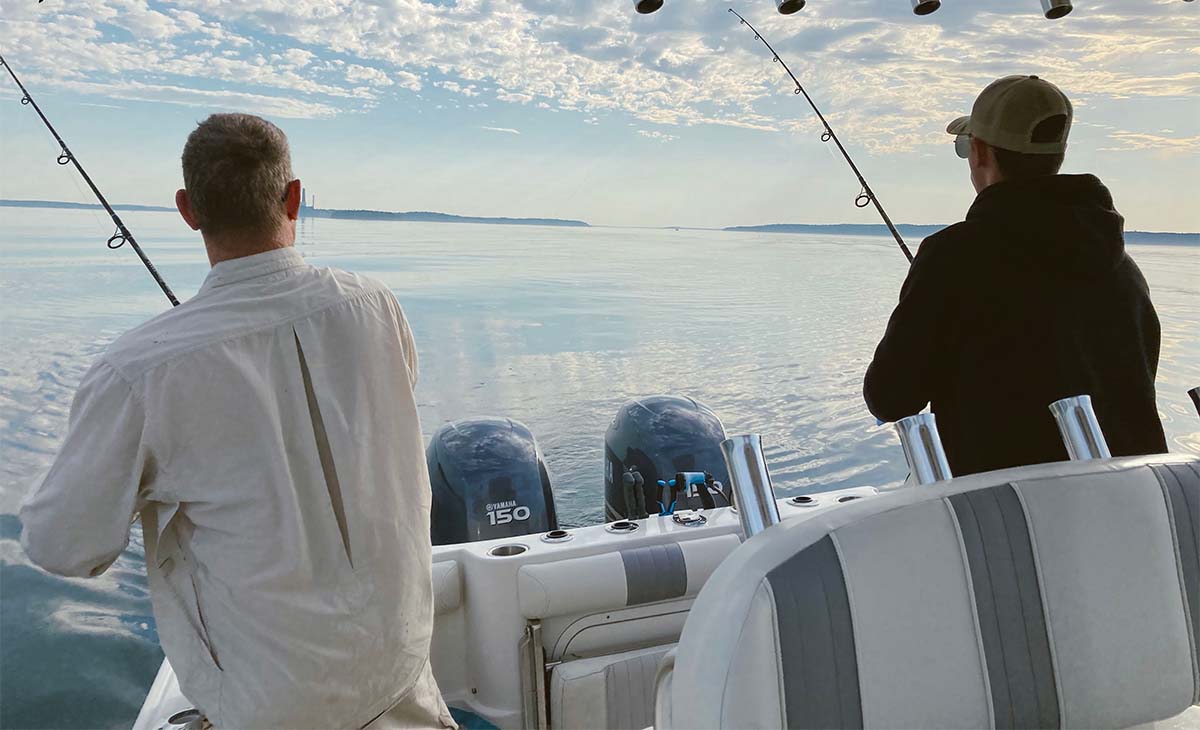 Whiptail is a Steiger 28 Miami with twin Suzuki 250 engines that provide the power and speed needed to fish offshore safely. The boat has a 10 ft beam and an 80 sq. ft. cockpit, as well as a 200-gallon fuel capacity that allows it to have a range of over 400 miles. It is equipped with top-of-the-line electronics and all the required safety equipment to ensure a smooth and worry-free fishing experience.
The 28 Miami is designed with several fishing-specific features, including tackle storage throughout the boat, a large in-deck fish locker (120 Gal) for storing caught fish, overhead rocket launchers, recessed gunnel weight draws and rod storage, and generous storage beneath the port-side couch. It also has two (100 Gallon) insulated fish wells for storing live bait and keeping caught fish fresh.
The hull of the 28 Miami is made of hand-laid fiberglass and features an "I-Beam" grid system that adds durability and reduces flex in rough waters. Our boat has a spacious cabin with a manual porcelain head, a stainless sink, a V-birth for two people, and three opening portholes for ventilation. The 28 Miami has a length of 28 ft, a beam of 10 ft, a weight of 8400 lbs, and a draft of 25 inches. In addition, unlike many other charters, the 28 Miami has a bathroom for added convenience.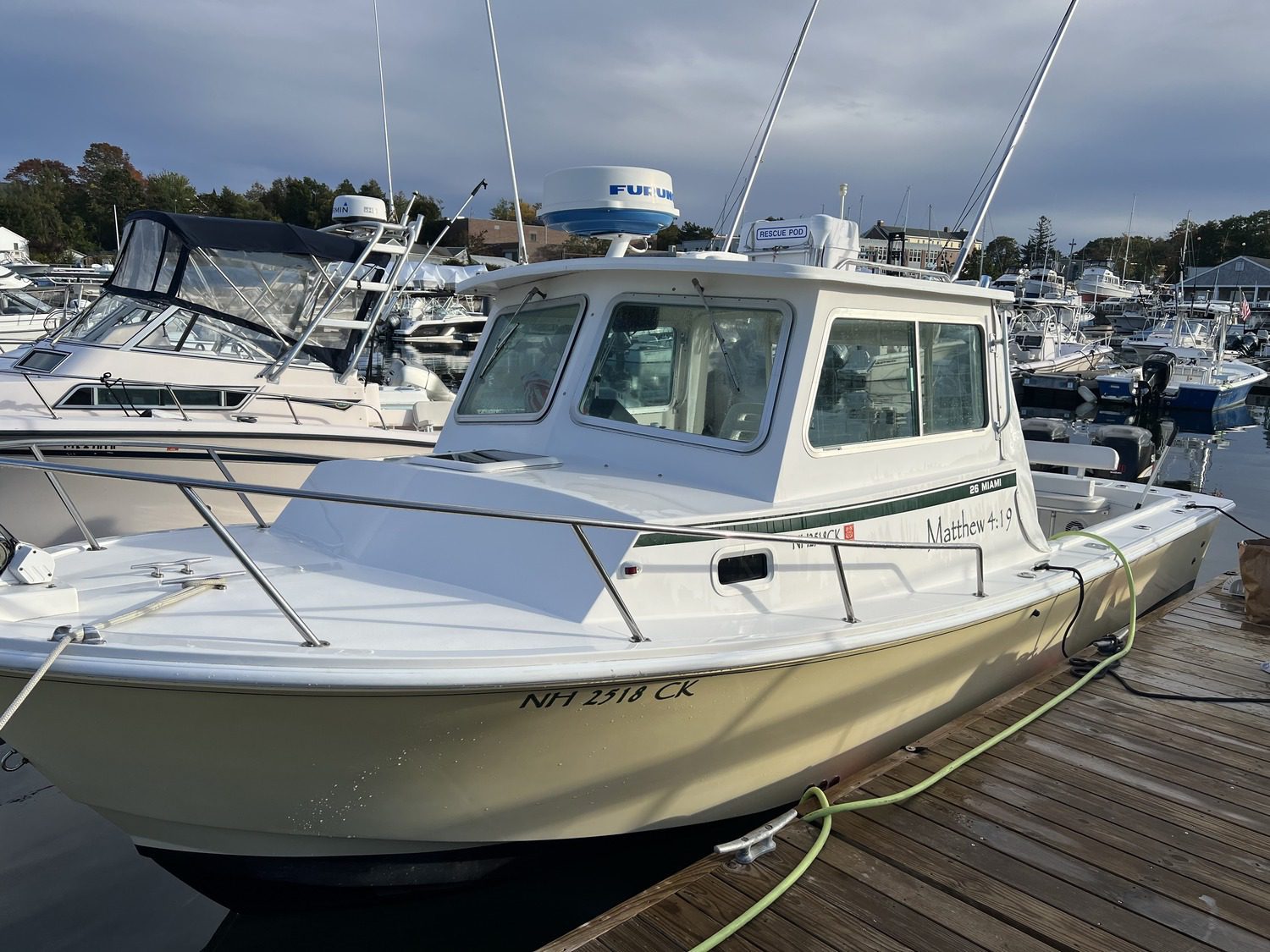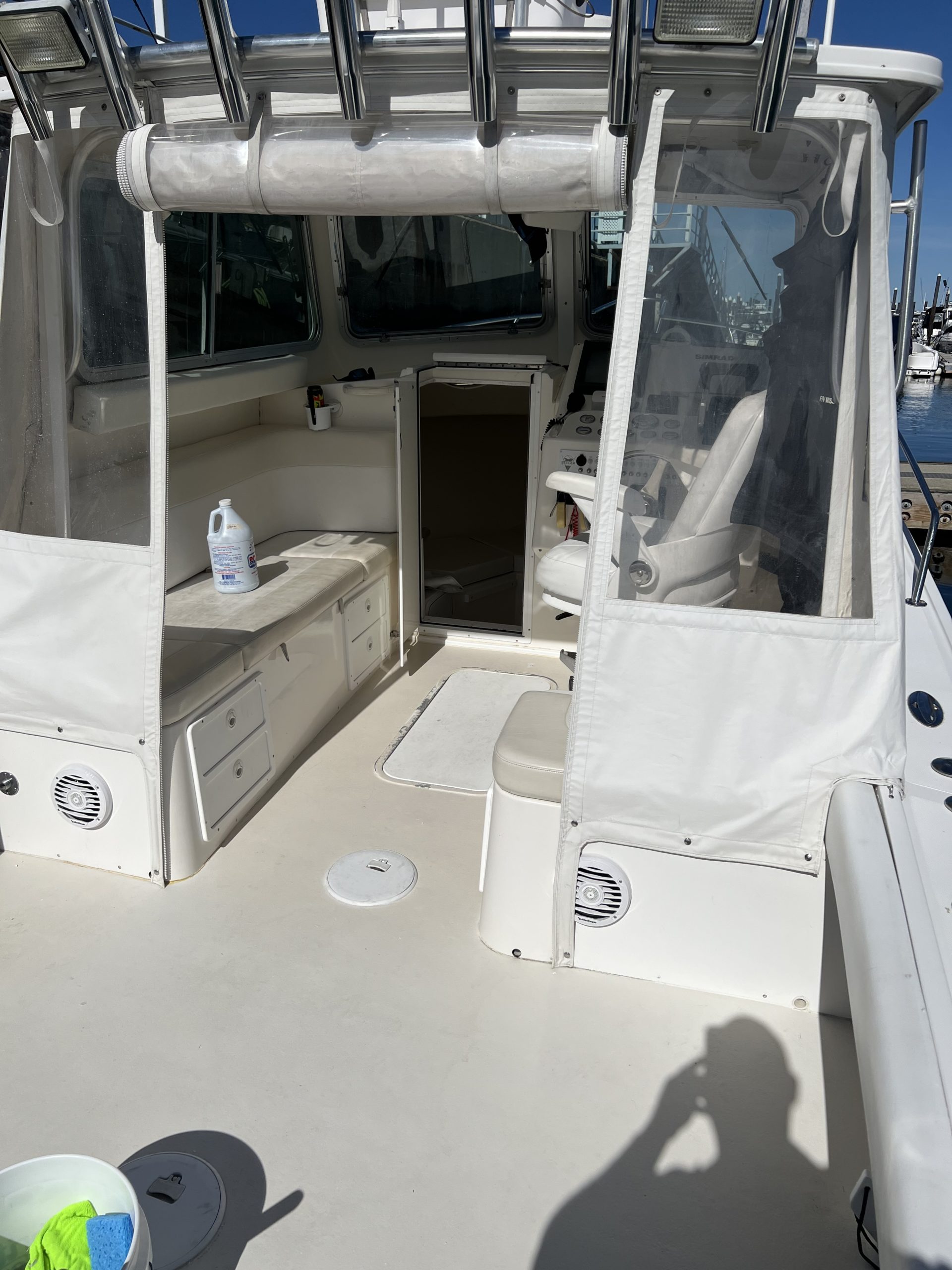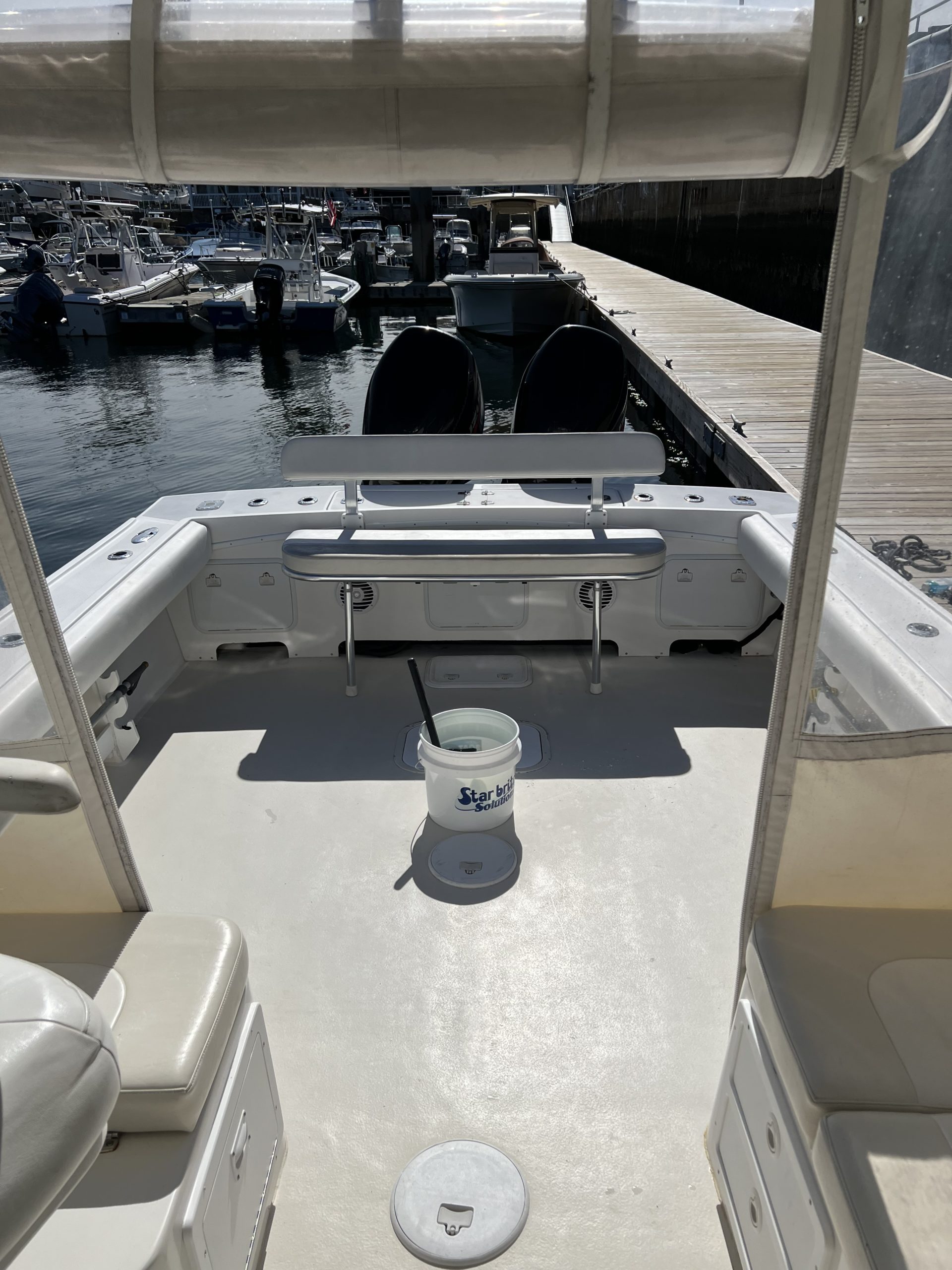 Our Captain, Jason Eaton
Captain Jason Eaton is an avid angler and a full-time registered Maine State Guide. He enjoys sharing his wealth of local knowledge with his customers and friends. Jason specializes in Groundfish, Striper, and Shark fishing out of Maine. His main goal is to provide his clients with the best sportfishing experience and come back home with an ice chest full of memories and filets. 
Read More
Our captain isn't just a skilled navigator, though, he is a proven tournament winning Guide.  He placed 1st in the 2018 Spring Point Shootout fishing competition for Striped Bass and 1st in the 2019 Spring Point Shootout for Shark. Jason learned to fish in Portland as a youngster, and has been up and down the New England coast to New York, and New Jersey to fish for Stripers.  So not only will you benefit from a great tour guide deeply familiar with the local seascape, you'll be working with a real fishing pro who has been fishing these waters for decades!
Jason has lived all over the country, but now lives full time in Portland with his wife of 22 years, Michelle, and his daughter who is currently attending USM.  An avid outdoorsman, when he isn't busy leading fishing adventures, Jason is probably fishing for pleasure, hunting for deer, or taking his Wirehaired Pointing Griffon, Sadie, birding.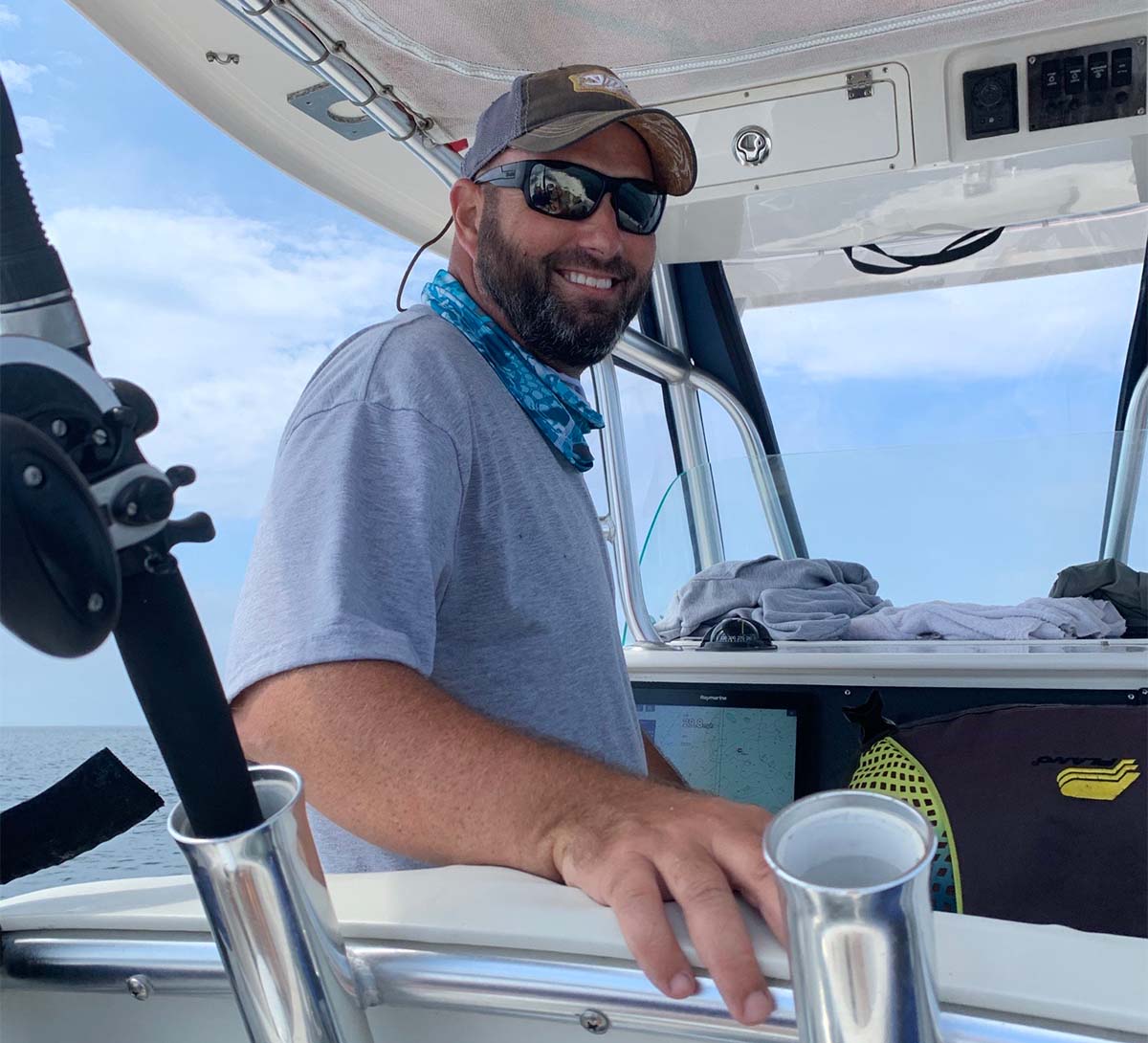 The Mission 
The purpose of Whiptail Adventures is to bring the joy and thrill of competitive fishing to the people of Portland, Maine, whether they're local or visiting. We thrive on sharing the energy and excitement fishing brings into our lives with our clients.

We value the challenges and joys that offshore and inshore fishing provides both to us and our clients, and our ultimate goal is to help you form incredible memories about your time on the water in Maine.